Your important data files defender

An important message can seem to be gone forever after accidentally damage? Deleted, Formatted, Virus-Attacks or Inaccessible? They are not a problem now! Data Recovery which can retrieves your lost videos, photos, music, documents, email and archive files from various disks, provides safe, fast and complete recovery.


Recover Deleted Emails


*This essential software securely scans for and brings deleted email messages back to life, even from Vista Windows Mail. It can even recover deleted email attachments. Data Recovery Pro is so powerful it can also recover partial files due to bad sectors.

Email application support includes the following:
*Microsoft Outlook 2003 and 2007
*Microsoft Outlook Express 6
*Windows Mail (Vista Mail)


Recover A Wide Variety Of File Types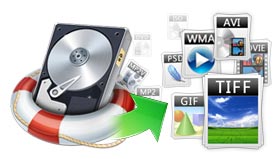 *As well as email, Data Recovery Pro can recover a wide variety of file types. It has the ability to retrieve missing files from many peripheral storage devices, including your iPod Shuffle, iPod Nano, and iPod Classic. Data Recovery Pro is so sophisticated it can even recover files from freshly formatted or partitioned drives. A completely updated filter technology allows you to easily search for "lost" text, allowing you to find files by searching for just a key word or phrase.


Easy-to-use; Scanning & Preview


Using ParetoLogic's easy-to-use interface, Data Recovery Pro guides you through the steps of finding files and recovering them. You can preview most files before recovery or even search for text that might be in a lost file. It allows you to sort the list of what is recoverable to easily find what you are looking for.
Minimum
System Requirements:
The following are the minimum levels required. For improved responsiveness we recommend higher system specifications than those presented here:

*50 MB free hard disk space required for initial installation
*Internet connection
*Microsoft Internet Explorer 6.0 and above
*Operating privileges: logged on as administrator


Recover Lost photos, videos, music files from PC: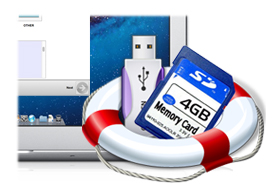 *Recover multimedia files from portable storage devices: All you lost files are stiil on your storage devices,you can recovery them with a professional data recovery,with this Data Recovery software,you can get back photos, videos, music and other multimedia files from iPod, USB drive, SD card, memory card, digital camera, mobile phone, MP3/MP4 player and other portable storage devices.

*Lost files Recovery: with Nice to recover data for Mac,you can recover lost photos, video, documents, email and archive files from any Windows-based hard drive


Operating System Requirements:

-Windows Vista® Operating System 32-bit
*Home Premium, Business, Enterprise, Ultimate
*Service Pack 2
*1 GB Memory (RAM)
*1 GHz Processor Speed

-Windows Vista® 32-bit
*Home Basic
*Service Pack 2
*512 MB Memory (RAM)
*800 MHz Processor Speed

-Windows® XP Operating System 32-bit
*Service Pack 3
*256 MB Memory (RAM)
*300 MHz Processor Speed

-Windows® 2000 Operating System 32-bit
*Service Pack 4
*256 MB Memory (RAM)
*Pentium III Processor Speed

Select the file type for recovery
Here you can choose the "Scan" or "Advanced" to recover what you want. Just check the one.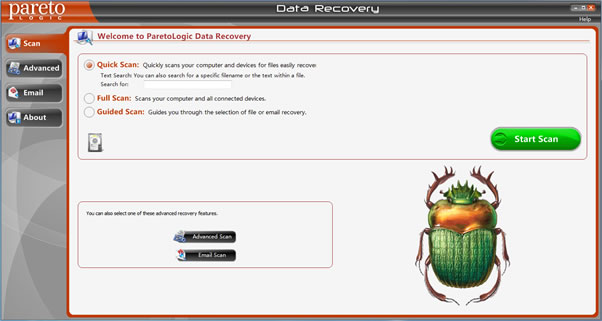 3 scanning mode you can choose as you want:
• Quick Scan: Quickly Scans your computer and devices for files easily recovery.
• Full Scan: Scans your computer and all connected devices.
• Guided Scan: Guides you through the selection of file or email recovery.



Here four areas can be chosen to scan, those are: Recycle Bin, Corrupt Hard Drive sectors, Files without names, Reformatted partitions.

To recover files deleted from which you need, such as choose the "Recycle Bin" of "Areas to Scan", click "Star Scan".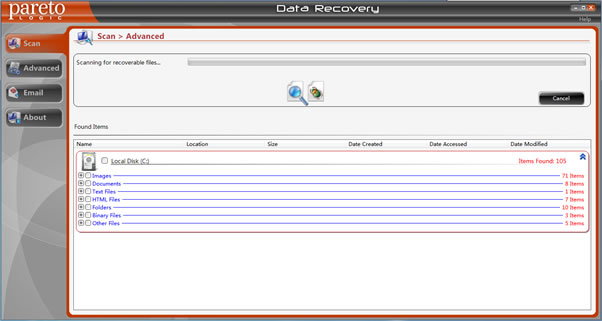 Recover deleted files from Data Recovery Software
When the scanning completes, you can preview the scan result, which have been classified into types. Check those you want and hit on "Recover" to get them back.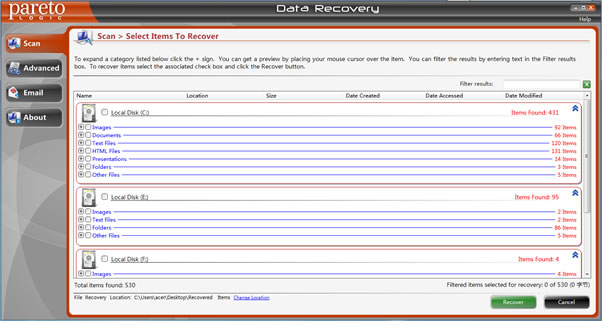 You should save the recovered files on another partition different from the source partition to avoid data overwriting. If you didn't find your desired data back, deep scan or another recovery mode should be tried to retrieve again.